Another exciting weekend in the world's favorite league and there were two big events this weekend and they both took place in Manchester. At Old Trafford, the home of Manchester United, manager Sir Alex Ferguson was given a Guard of Honor, in respect to his services rendered to the game and United in the wake of his recent resignation after 26 years at the club. The game notably took a back seat to the drama, as United ran out 2-1 winners with goals from Chicharito and surprisingly Rio Ferdinand. The festivities continued after the game as the champions were presented with the Premier league trophy.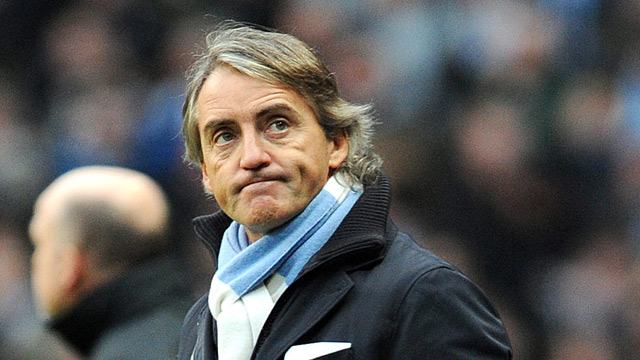 While City, the other Manchester club, was making news of a different note entirely. After a dismal performance in Saturday's FA cup, manager Roberto Mancini was sacked. The rumors have been swirling for a while, but this weekend's loss to Wigan, might just have been the straw that broke the camels back. City looked lethargic and uninterested and were 2nd best throughout the game, and Wigan were worthy winners. Malaga's Manuel Pellegrini seems to be in pole position for the job. But stay tuned.
Elsewhere, Frank Lampard scored two goals as Chelsea came from being a goal and a player down, to beat a rampant Aston Villa. With his two goals, Lampard becomes the top goalscorer in Chelsea history. Tottenham maintain their push for a champions league spot as they also came from a behind to beat Stoke City. They again left it late, as Adebayor scored the winner with an assist from American Clint Dempsey. The win moves Spurs into 4th place above Arsenal.
In a game where both sides have little to play for, Liverpool had a big win over Fulham with Daniel Sturridge scoring all three  goals, to mark his first ever premier league hatrick as the reds ran out with a 3-2 win.
In the relegation struggle, Norwich secured their premier league survival with a surprising 4-0 win over West Brom. Newcastle did the same as they beat QPR 2-1 to also ensure their survival.
With one game to go, it will go down to the wire, as there is one more Champions league spot to be filled, with North London rivals Spurs and Arsenal fight for it. While the final relegation spot is also yet to be filled.