After leading (4-0), Germany drew with Sweden (4-4). An incredible scenario that left speechless the actors of the game …
"Stupid" (Bild), "embarrassing" (TZ), "shocking" (Express), "historic", "disappointing" (FAZ): Germany runs out of  adjectives to describe the performance last night of the  Nationalmannschaft  against Sweden. And we can understand because having led (4-0), Joachim Löw's men have been joined by Zlatan Ibrahimovic and its partners to end the game (4-4). Almost already directly qualified for the 2014 World Cup if they win, our neighbors across the Rhine have plunged into doubt.
"For 60 minutes, we delivered a great performance. You have neither seen nor Ibrahimovic nor Elmander for one hour. But in the last half hour, we made too many mistakes. We were more organized and we had more control of the ball. We need to analyze this, "unleashed a Low rang at the end of the meeting. And inevitably, the questions and the misfortunes of Germany are many reasons for hope in Sweden. The local newspaper Expressen also speaks of the "miracle of Berlin" to account for the achievement of protected Erik Hamrén. Ibra first Swedish striker, told his feelings to micro Kanal 5.
[caption id="attachment_2840" align="aligncenter" width="640"]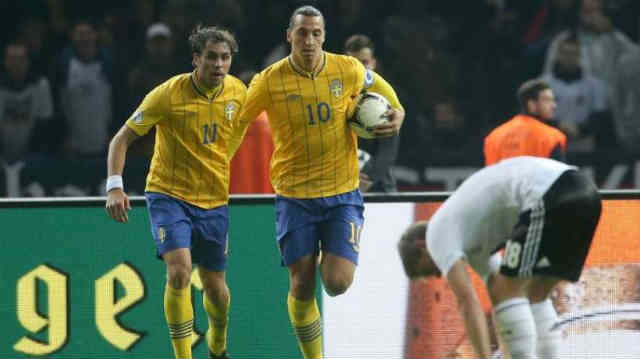 Ibrahimovic and Elmander leave Germany speechless after leading Sweden to an amazing four goals comeback.[/caption]
"I do not know if it is possible to explain this. After the fourth German goal, I do not know how long it remained, half an hour, 35 minutes, so we did not have much to believe. But we did, "he said before continuing. "These are eleven different players who have returned to the field in the second period. We played differently. I think we were too naive and respectful in the first period. Then we went out. I scored the first goal that gave us confidence. Then the second, third and at the end we score the fourth. It is an indescribable emotion, "he said. "Idiots and sudden heroes," says Expressen. Football is crazy sometimes and offers incredible scenarios.
Game Played on 16th October, 2012
Kick Off at 18:45 (GMT)
Half Time finished with scoreline 3:0
Game ended after Full Time with scoreline 4:4